CHAPTER SIX
Time and Vision


MESOLITHIC EVIDENCE
Mesolithic evidence will be shown here from Italy, Scandinavia, Jordan, and the Zambia. Figure 25a below, from Cala dei Genovesi, Sicily (after D'Errico 1992:104, fig. 9). Engraved pebble showing entoptic IIa. Figure 25b below, from Åskollen, eastern Norway (after Coles 1991:134, fig. 6b). Depicting the outline of an Elk which has been infilled with geometric patterns. Figure 25c below, from Ejsing, western Jylland (after Schultz 1983:54, fig. 28). Amber pendants featuring entoptics Ia (fragmented), IIa and IVa. Figure 25d below, from Rykmaksgård on Sjaelland (after Schultz 1983:54, fig. 29). Club of aurochs bone, engraved with figurative and non-figurative motifs including entoptics Ia and IVa.

Figures 26a below left and b right, from Dhuweila, Jordan (after Betts 1987:220, fig. 5 and 6). Featuring entoptic 1a and IV. Figure 26c below, from Dhuweila, Jordan (after Betts 1987:216, fig. 2). 'Dancing men', might this be interpreted as a shamanic representation? Figure 26d below, from Katolola, the Zambia (after Phillipson 1972:321, fig. 25). Red schematic paintings featuring entoptic IIa.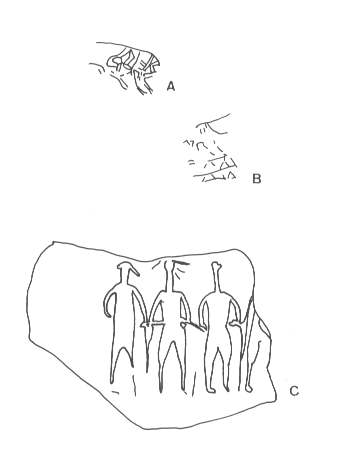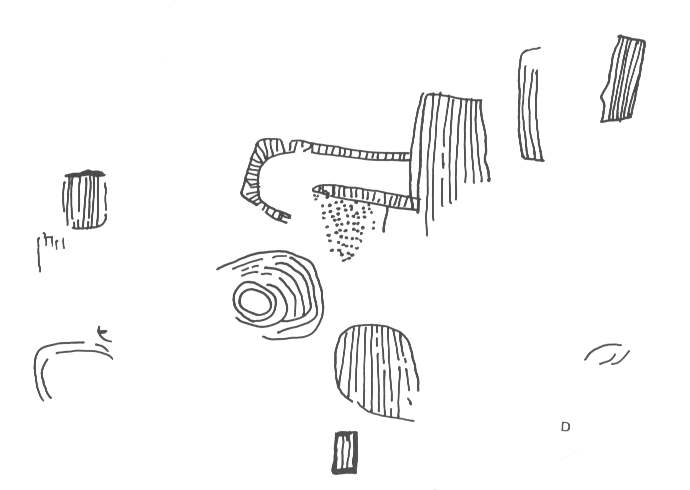 Tables 11 and 12 show common Mesolithic motifs.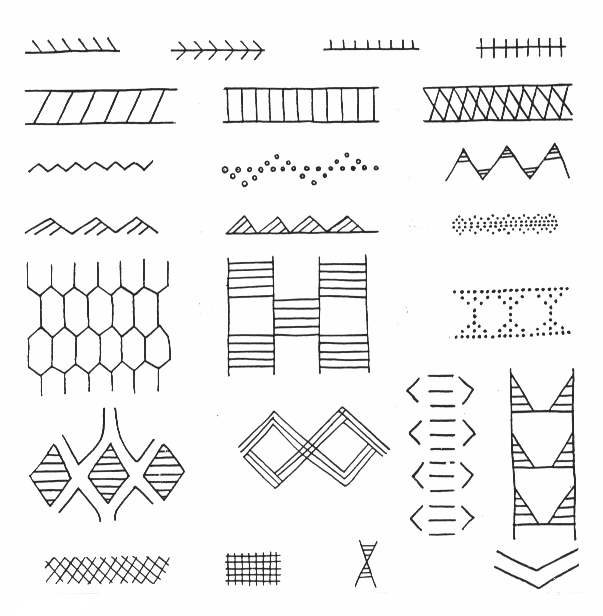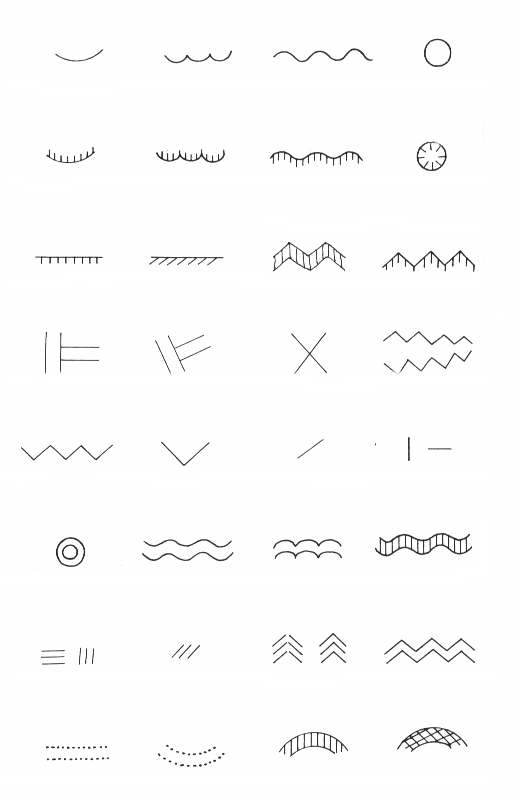 Copyright © 1995, Suzanne Carr. All Rights Reserved.
Previous | Next

Introduction | Chapter 1 | Chapter 2 | Chapter 3 | Chapter 4 | Chapter 5 | Chapter 6 | Chapter 7 | Chapter 8 | Appendix | Bibliography